Revolutionizing the Industry
High quality Rolling Docks, Sectional Docks, and Floating Docks that can be decked with any of our Maintenance Free Products.
What We Do
We manufacture Hydro Max II hydraulic boat lifts as well as Feighner Vertical and Cantilever Boat Lifts. We also manufacture Feighner Rolling Docks, Floating Docks, Sectional Docks and Accessories. We build and market docks and lifts all year around. We always stand behind our products, which keeps our customers continually coming back for new innovative boat lifts and docks and excellent service.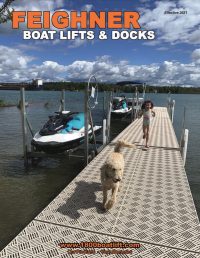 First Rate
"I have used Feighner docks for more than five years now. The materials are first rate, the installation in the spring is simple, and the footing is stable and sure. Scott's system allowed me to go out 80 feet into 10 foot deep water and still have a firm surface to walk on, and as a bonus, the ducks don't like to perch on it. Great docks!"
Reliable & Easy to Use
"The hoists are reliable and easy to use. Whenever we have a problem, Scott and his employees are always available and very willing to help. The original hoist has been upgraded and is still working. The only problem we have had with the hoist is that the batteries need to be charged periodically because the solar panel is sometimes inadequate – Michigan's lack of sunshine. The original dock looks as good as new and is sturdy. When we moved, Scott helped us design the dock to share with our neighbor. He is very available and it is fun to work with him. We are repeat customers. We recommend their docks and hydraulic hoists."
Year 6 & Still Looks Good
"After years of carrying dock sections in and out, I'll never get away from a rolling dock now. I found the added cost of having the experienced delivery person put it together a wise choice. I've also found the different adjustments you can make to the lift have really helped with the changing water conditions. (Low to very low, then quite high last year, yeah!) When a neighboring marina owner saw the canopy on my lift she stated that they don't work in these parts. 'The wind gets channeled on this stretch of the river. That canopy will be shreds in two years.' Next spring it is going out for year 6 and still looks good." 
Couldn't Be Happier
"Bought a new rolling dock around 2000. What a breeze to put it in and take it out every year, I'll never have anything but a rolling dock again! Works great and whenever I need anything, you guessed it, they service my socks off. I send all my neighbors to Feighner. Scott and his crew have taken great care of me for almost 28 years, and I couldn't be happier with them. They've done so well by me for so long I can't imagine looking anyplace else. Now I've got my eye on one of their hydraulic lifts." 
Outstanding Quality
"We have owned our Feighner dock for 17 years. The quality is outstanding and it is just as sturdy now as it was when it was brand new. A few of the brackets that attach the poles to the dock section have had to be replaced over the years due to corrosion. We have been able to get replacement parts from Feighner quickly. Scott (the owner) is very customer focused. I would not hesitate to recommend this company and its products."
Outstanding Service
"If you need a boat lift or dock, Feighner's is the place to go. I purchased a hydraulic lift for a 33′ Chaparral. After researching all my options, Feighner's Hydro Max II stood above the rest for engineering design, elegance, low profile and price. I was extremely happy working with Scott Feighner and his team. Their service, pride and commitment to customer satisfaction is outstanding. Highly recommended!"
Very Helpful
"We recently moved to a house on a lake with a Feighner dock that needed repairs after having been left in the water through multiple winters. I called to get info on the parts and repairs. Everyone I talked to was very helpful in guiding me to the parts I needed, promptly took care of the order and the parts were at my house within a couple days. Everything went very smoothly and the dock is now ready to go back in the water! Thank you!"
Exceptional, Friendly, Informative
"I have been a customer of Feighner's for years purchasing a roll-out dock from a local dealer. Over the last 2 years I have reached out directly to the company for advice and replacement parts. My customer experience has been exceptional, friendly informative conversations which resulted in ordering the right parts for the job. The pieces arrived on-time as quoted, fit as designed and resulted in the dock being launched as scheduled."
Completely Satisfied
"I moved to the lake in 2013 and promptly turned to Feighner Boat Lifts and Docks for my needs based on their solid reputation. First was a boat lift for a brand new deck boat. Scott researched the boat and its specifications to determine the appropriate lift for my needs. He was patient and very informative since lake living is a new experience for me and my wife. In 2014, I returned to Feighner for a PWC lift. In 2015, I again turned to them for a new dock. This was another major purchase that Scott and Isaac helped me with, fully explaining all the options. I am completely satisfied with all the products I have purchased and I will continue to trust Feighner Boat Lifts and Dock for any future needs. They are honest and reputable and I highly recommend them. They sell quality products at a fair price and they stand behind their goods."